DevNetwork Advisory Boards are composed of industry leaders, visionaries, and technical executives in the software engineering industry. As the destination for the global developer, engineering & IT community, DevNetwork has both the goal and obligation to present the most cutting-edge, innovative, and relevant content at our industry conferences and events. Our Advisory Board members help make that possible.
The Cloud Advisory Board is a group of experts and industry executives who specialize in topics including: Cloud computing, cloud management and infrastructure, cloud architectures such as microservices, containers, and kubernetes, DevOps technologies and practices, and cloud services.The Cloud Advisory Board is a group of experts and industry executives who specialize in topics including: Cloud computing, cloud management and infrastructure, cloud architectures such as microservices, containers, and kubernetes, DevOps technologies and practices, and cloud services.
All DevNetwork Advisory Boards
Cloud

Advisory Board Members
Grayson Adkins is Co-Founder/CEO at Uffizzi, an open engine for creating on-demand test environments in the cloud when you open pull requests or build container images.
With a background in engineering, computer science, and design, Grayson steers product direction at Uffizzi. He is passionate about discovering and building productivity tools that help product teams deliver software better, faster and cheaper. Grayson is particularly interested in tools that disappear into the background and seamlessly integrate into existing workflows.
Prior to Uffizzi, Grayson worked as a researcher in AI and Deep Learning.
Anshu is the CEO and Co-founder of Nimbella, a serverless cloud platform provider. She has over 20 years of experience in the technology industry, building and evangelizing cloud infrastructure products. She served on the BoD of the OpenDaylight Project, Linux Foundation. Prior to Nimbella, she led product teams at four infrastructure startups: Cedexis (acquired by Citrix, 2018), ConteXtream (acquired by Hewlett Packard Enterprise, 2015), Ankeena Networks (acquired by Juniper Networks, 2010), and Speedera Networks (acquired by Akamai, 2005). Anshu holds a B.S. E.E. from IIT/Roorkee, India; M.S. E.E. from Rutgers; and an MBA from the Kellogg Graduate School of Management.
Currently working as Cloud Solution Architect at Thoughtworks. I have extensively worked on cloud and specially on Azure for a decade now while couple of years with GCP and AWS. As part of consulting role I help fortune 500 enterprise in building Cloud native technologies , cloud strategy , cloud adoption , cloud migration and cloud governance. I enjoy sharing knowledge on cloud native architectures and been conference speaker across multiple global conferences.
Mighael Botha is a seasoned professional with more than 30 years experience in Information Technology, starting in development and now focusing on architecting multi-vendor solutions in the areas of cloud, IoT and AI.
Today Mighael advice C-suite, architects and developers on the right technologies to use to accelerate business growth and gain a competitive edge. The biggest impact on business today is driven by disruptive technologies like IoT, Cloud, AI, APIs and Blockchain. Mighael meets on a daily basis with key stakeholders to not only advice on technologies to use to accelerate their digital transformation.
Ivan co-founded Codeanywhere, the first cross-platform Cloud IDE, which now has over two million developers worldwide. Alongside this, Ivan founded the largest developer conference in SE Europe called Shift, which was acquired by Infobip - a global communications cloud provider in 2021. Ivan now serves as the Chief Developer Experience Officer at Infobip, running all global developer-facing operations.
Founder of Cyscale – https://cyscale.com – Cloud Native – Automated Cloud SecurityOWASP Cluj-Napoca Chapter Leader. Cybersecurity enthusiast with over 15 years of experience in the field of information technology, working with Go, Big Data, Python and Linux. I worked as Software Developer at Sophos, Security Engineer at CoSoSys where I developed Endpoint Protector and sensitivity.io. Before Cyscale, I was responsible of the entire Security Department for QiO https://qio.io – Industrial IoT.At CoSoSys, I led the development of its flagship award-winning Data Loss Prevention Solution, Endpoint Protector. I enjoy giving back to the community and riding my motorcycle.
Ian Crosby is the CTO at Container Solutions, helping companies through their Cloud Native transformations. With a long background in software development across a wide variety of industries, Ian is passionate about helping organizations solve challenges, be they technical or cultural. His focus is on the intersection of cloud native technologies, and the real world problems they are looking to solve.
Entrepreneurial and driven chief executive, with 20 years of leading industry expertise in growing companies in domestic and international marketplaces. Building world-class technology management, product development, and fiscally responsible teams. History of breaking into and establishing new markets, increasing sales, and growing the bottom line while spearheading operational improvements to drive productivity and reduce costs.
Mats are CEO and Senior Consultant with more than 30 years of experience in the telecoms & cloud sector. His contributions span systems engineering, research, service development, and product and business management.
Mats are currently the CEO and co-founder of Arctos Labs – a company that develops ground-breaking cloud and edge optimization technologies and solutions.
Prior to the company's journey on optimization, they conducted Research & Development assignments on 5G development for large global vendors and operators. In that role, Mats has been leading the development of service orchestration projects as well as embedded SW architectures.
Alan Flower is SVP for Cloud Native at HCL Technologies, and heads the HCL Cloud Native Labs & Advisory Services. A successful entrepreneur and technologist, Alan is deeply passionate about using technology to support the transformation of business and driving the creation of innovative products and services.
Matt leads the Amazon business globally for TD SYNNEX, a $60B technology distributor and solutions aggregator. In this role, Matt helps SaaS companies and Systems Integrators work more effectively with Amazon and the AWS platform in 100+ countries worldwide. Matt is the Host of House of Genius Austin and was previously CEO of Kleeen Software, CRO of Oculus360 and VP of Business Development for Liquibase. As Fortune 100 global leader with the perspective of an early-stage startup exec, Matt brings great understanding of the focus areas and resources companies should be developing at each stage in their growth.
Karthik Gaekwad is a veteran engineer who enjoys learning and building software and software products using cloud and container technologies. He has worked in large enterprises and startups, including Oracle, Signal Sciences, StackEngine, Verica, and currently works at Google crafting better developer experiences for users.
Karthik lives in Austin, Texas, with his family. He believes in building communities and runs meetups and conferences in the city. He's on the organizing committee for several groups, including Devopsdays Austin, CloudAustin, Container Days, and All Day Devops, and is an accomplished author for LinkedIn Learning. You can find Karthik on Twitter @iteration1.
Philip is a seasoned systems, devops, and cybersecurity professional that has aided in the development, growth, and security of many organizations, small to enterprise.
Currently, Philip is leading the engineering organization of a boutique cybersecurity consulting firm based in Los Angeles, CA.
Veteran in the mobile industry, developing platforms bringing developers and the telecom world together for 20+ years. At EMnify Martin revolutionised mobile core infrastructure by building the first cloud-native super network purposed built for the internet of things. His main mission is the democratisation of cellular connectivity and giving it with an API-first approach into the hands of developers as "Connectivity as Code".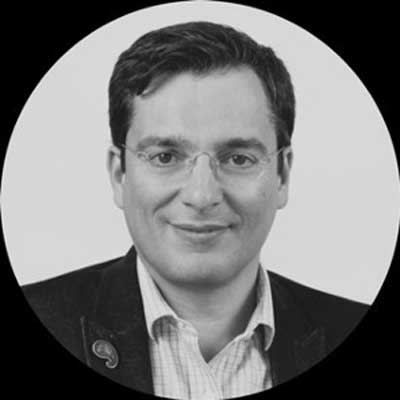 Co-founder & CPO
Laurent oversees product and business development at CAST AI. Laurent was co-founder and Chief Product and Business Officer at Zenedge (acquired by Oracle), and CEO and co-founder of Viewdle (acquired by Google). He holds degrees from the Cybernetic Institute of Ukraine (Doctorate Honoris Causa), the Wharton School of Business (MBA), and Supélec (M.Sc., Computer Science and Signal processing), among others.
George is a distributed systems expert and a hands-on engineering leader with focus on delivering B2B cloud services at scale. He is the Director of Cloud Platform Engineering at Citrix, coming from a DevOps background, he focuses on implementing SRE at enterprise scale working with cloud native technologies. He has been organizing the Athens Cloud Computing Meetup since 2016 and the Athens Hashicorp User Group. Most recently, he has been a speaker at global events like Hashiconf, DeveloperWeek, Voxxed Days, and more, focusing on reliability engineering, agile leadership, scaling engineering teams, and entrepreneurship
Jenna-Shae B. Harris is a Solutions Engineer at VMware, specializing in Tanzu Observability. Prior to joining VMware, Harris worked as a Systems Developer at SAS Institute, where she specialized in systems design, implementation, and maintenance across enterprise-wide cross-platform infrastructure. She also spent many years in the banking industry as a Mainframe Systems Engineer. Harris holds a B.S. with honors in Information Technology from NC A&T State University and a MS in Information Systems & Business Analytics from Marist College. She is passionate about helping her customers solve real world problems to ensure they maximize their potential and success.
Mans is a leader in Deloitte's Cloud Engineering with expertise in formulating architecture, roadmap and strategy for complex technology products and solutions, network infrastructure, software-defined networking, AI networks, IoT and cloud projects. Mans has multiple industry known certifications, and in the last 20 years he has worked and advised on several large-scale digital transformations, M&A activities, divestitures, spin-offs, datacenter & cloud transformations, consolidations, and migration projects to help Fortune 500 companies such as McDonald's, Morgan Stanley, Sears, Kmart, United Airlines, Bank of Montreal, and Northern Trust Bank, to name a few. Mans is a graduate of University of London.
Only the most exceptional IBMers are appointed with the rare distinction of IBM Fellow, the highest technical honor in the company. Shankar led the creation of IBM's Method for hybrid multicloud-enabled Enterprise Transformation, and received the IBM Corporate Award as a result. He has also won the Outstanding Technical Achievement Award four times – an accomplishment befitting only the most innovative thinkers in IBM. Shankar helps Enterprises worldwide on their Cloud-enabled Digital Transformation journeys
Gagan Kapahi is a Technology Leader with deep expertise in engineering, automation and delivery of transformative products and solutions to effectively improve the reliability and stability of large-scale distributed applications across multiple tiers, data centers and cloud leading to improved outcomes and exceptional customer experience.
Gagan's numerous contributions at his current and previous employments include simplifying architectures, building fault tolerant solutions and improving operational efficiencies allowing teams to spend more time driving business goals and delivering value to consumers.
Gagan believes personalization, automation and digital technology are key elements to build transformative products and deliver consistent and effective customer experience.
Max is Co-Founder and Cloud Native Advocate at Liquid Reply. He initiated the CNCF Environmental Sustainability Technical Advisory Group and serves as the Co-Chair. For 2,5 years, he worked within the Kubernetes release team and is part of different Advisory Boards. His focus is on designing and building cloud-native solutions on/with Kubernetes and platform engineering to simplify the current challenges of complex systems.
Currently working as a Principal Software Engineer @ Expedia group. I am focusing on reliability engineering as part of a bigger org named "Tech Enablers". I was a backend developer mainly using JVM languages. I am playing roles in development, ML/AI, open source projects, reliability and scalability, mentoring, interviewing, and providing technical leadership to my immediate teams. At free time I like to read books, do paintings and spend time with my son and cat. I believe that excellence comes with learning and training. You cannot achieve any of those without building your character.
With 30 years of industry experience, now I am with MediaAgility as its CTO. My focus areas include strengthening the existing Google Cloud technology capabilities, building cloud-native industry solutions, enabling the Marketing and Sales teams, mentoring the Architects and Engineers, establishing guilds and technology chapters, strengthening internal IT systems and InfoSec functions. I am also engaging with our clients and partners at Google on technology and business initiatives. Before MediaAgility, I spent almost 15 years with Cognizant leading Digital Engineering and Technology And Architecture Office for the Banking & Financial Services industry in North America and India.
Satish is a seasoned technical expert with 17 years of experience building payment systems and integration solutions for enterprises. He began his career at IBM and later led multiple initiatives at Visa and AWS. With a master's degree in Computer Science and Engineering from NUS, Singapore, Satish brings a wealth of expertise to his current role at Apple, shaping ideas into products that can have meaningful impact on consumers' lives. With a focus on innovation and thought leadership, he uses his deep expertise to scale services to billions of devices through strategic partnerships.
Ph.D., Engineering Manager @scaleway for the dev tools team. Trainer in the field of cloud computing.
Accomplished, Information Technologies leader with demonstrated success in effectively managing multiple projects and teams in a fast paced, high-pressure environment. Proven ability to drive business goals through strategically utilizing technology to address issues and support business requirements.
I am a developer since I was 13 years old, a Computing Engineer since 2006 and an entrepreneur for more than 15 years. My passion is software development and my mission is to turn the development faster and better. That's why I am co-founder and CEO at Back4App, a backend-as-a-service platform based on Parse open source. We help the developers to create, run and scale high quality backend spending minimum effort, saving time and money.
Hugh McKee is a developer advocate at Lightbend. He has had a long career building applications that evolved slowly, inefficiently utilized their infrastructure, and were brittle and prone to failure. Hugh has learned from his past mistakes, battle scars, and a few wins. And the learning never stops. Now his focus is helping developers and architects harness the power of the cloud. Hugh frequently speaks at conferences around the world. He is the author of Designing Reactive Systems: The Role Of Actors In Distributed Architecture.
Business and Technology leader investing in and building bleeding edge solutions for global enterprises across Cloud Transformation/Migration, Data Engineering (Database, Data Warehouse, Data Lake (BI & AI/ML), Cloud Security & GRC, DevSecOps & Site Reliability Engineering, Cloud Application Delivery/Modernization/Containers/Serverless, SDDC & SDx.
I'm a full-stack software engineer, and the creator of SurrealDB, the ultimate cloud database. My area of interest lies within databases, with a focus on distributed databases, and highly-available architectures, having had extensive experience with PostgreSQL, MySQL, MongoDB, RethinkDB, Redis, InfluxDB, OrientDB, Firebase, CockroachDB, and TiDB. As a developer I have expertise in Rust, Golang, Javascript (Node.js, Ember.js, Electron.js), and further experience coding in Ruby, PHP, HTML, Objective-C, Swift, and Python.
Marco Moschettini is a senior software architect, graduated from the University of Bologna. Forbes under 30, Marco is a co-founder of Cubbit, where he leads the technological development as CTO.A tech enthusiast since early age, he has specialized in web development and cyber-security, scaling projects up to tens of thousands of users already during high school.At the University he then further specialized in distributed and peer-to-peer systems with a degree thesis on decentralized cloud storage, laying down the foundations of Cubbit's cryptographic architecture.
https://www.1rivet.com/executive-team/krishna-nair
Adora Nwodo is a multi-award winning Software Engineer based in Lagos, Nigeria. She currently works at Microsoft where she builds Mixed Reality on the Cloud. She is also the Founder of AdoraHack, and the Vice President of the Nigerian chapter for VRAR Association.
She has content online that teaches people about Infrastructure Automation, Software Engineering, Productivity & Career Growth.
Adora is the Author of "Cloud Engineering for Beginners", and "Beginning Azure DevOps". She is passionate about the developer community and is driving inclusion for women in technology. She co-organizes community events, contributes to open-source, and speaks at technology conferences worldwide.
Adao Oliveira Junior is a Solutions Architect working in the technology industry for over two decades, five on Cloud Native solutions. He has been considered a leader in the Cloud Native space, primarily focused on solution architecture, software engineering, and cloud infrastructure but also experienced in security and infrastructure as a code.
Experience in collecting high-level requirements and translating them into technical solutions, helping customers and partners around the globe. He also contributed to several open-source projects and the Kubernetes community and holds Kubernetes certifications, such as CKA, CKAD, and KCNA, among other computer and cloud industry certifications.
SW craftsmanship, TDD addicted, agile coach. I have fallen in love with FP in particular Elixir/Erlang. I like Ruby, NodeJs and C++. CTO @coders51
I have a Bachelors of Technology in Computer Science Engineering From Maharaja Agrasen Institute of Technology (GGSIP University, India). I am a Business intelligence consultant / developer with 5.5 years of professional experience in designing, developing, testing and maintaining the solutions in an agile team. I love exploring new technologies and eager to learn and worked on cloud technologies with Microsoft stack knowledge with a expertise in Mendix, Azure, CICD, Power BI and MicroStrategy as an onsite coordinator , efficient team member and consultant.
Engineering Leader in building multi billion dollar product engineering company with expertise in Cloud, Security Data Lake and ML Platforms
As a Developer Advocate at QuestDB, I help developers make the most of their (fast) data, I make sure the core team behind QuestDB listens to absolutely every piece of feedback I get, and I facilitate collaboration in our open source repository.
I love data storage, big and small. I have extensive experience with SQL, NoSQL, graph, in-memory databases, Big Data, and Machine Learning. I like distributed, scalable, always-on systems.
Ravi Ravichandran is Head of Cloud platform engineering and Devops at Juniper Networks. He is instrumental in transforming Devops at Juniper Networks. Ravi has over 25 years of experience Cloud/SaaS platform and engineering, IT Strategy, Architecture, Support, Cloud Services Delivery, DevOps, Infrastructure, Operations engineering and Security, with technical and business leadership. At GE Software, As CTO for Cloud Platform & Devops, He was responsible for the industrial cloud for customers and led the global Cloud/SaaS strategy spanning AWS, Azure and Private Clouds, addressing security, availability and reliability. Ravi worked at numerous startups taking 2 companies to IPO.
Dilip Ravindran, as a security engineering leader at Coinbase and a former senior manager, has developed extensive experience and expertise in the technology industry, including cloud technologies, cloud security, engineering leadership, and blockchain technologies.
As the leader of the cloud security efforts at Coinbase, Dilip's current role involves developing and implementing the infrastructure security strategy, policies, and procedures to make it the most secure crypto platform in the world.
He is passionate about staying current with the latest advancements in cloud technology and enjoys sharing his knowledge with others.
Jake is a seasoned technology executive who has built and scaled whole technology organizations with experience spanning big data/ML, infoSec, and consumer products. As the VP of Product & Engineering at Yotascale, he oversees a global team using AI/ML and data engineering to build the next generation of cloud FinOps tools. Prior to this he was the Sr. Director of Platform Development at OneLogin, where he was instrumental in building the platform to help secure their acquisition. He previously held senior leadership roles at Amazon Music and Peek Travel. He is a resident of Oakland, and really loves tiki mixology.
Jared is a visionary business and technology leader. A serial entrepreneur with an extensive background in strategic partnership development, distributed systems, backbone network engineering, datacenter infrastructure, virtualization, and integration of acquisitions. Academic computer science and engineering focus with recent emphasis on data sciences, AI/ML, analytics, IoT, public cloud platform adoption, and commercialization of disruptive technologies. Extensive experience building and managing global 24x7x365 mission-critical operations distributed across time zones, cultures, and countries including the United States, Canada, and the Philippines. http://jaredreimer.com/
As founder and CTO of Mia-Platform I help enterprises to build their digital assets moving from legacy systems and silos organizations to cloud native platforms and open governance organizations. My principal focus are:- API and Cloud Native platforms - Data Streams, Fast Data and Data Mesh solutions - DevOps value stream platforms - Omnichannel experience: mobile, voice, touch, type, web
Shira Shamban is a security researcher and technical expert with a focus on cloud security. Currently, she is the co-founder and CEO of Solvo, where she makes developers and security team's life easier by enforcing adaptive security for them automatically. Shira started her professional career in cybersecurity as an officer in the elite intelligence unit 8200. Shira strongly believes in empowering women and under-represented communities in the world of technology. She volunteers as a lecturer and a mentor in SheCodes, Cyber Ladies and WomenInAppSec. Shira started her own mentoring program called Security Diva and is the co-chair of OWASP Israel.
Accomplished Product and Engineering Leader with a track record of building high-performing global organizations and delivering market leading products at some of the world's most innovative companies. Defined and built products in several technology domains including Cloud, Infrastructure, Security and Databases.
Eddie is a Director of Engineering at Mode. Previously, he worked at Code for America, 18F, and served as Director of Cloud.gov.
Co-author of the Continuous Previews Manifesto, Head of DevRel at Uffizzi, and highly decorated Navy SEAL who leverages his experience leading high performing teams to help organizations improve how they build and deliver software. After 12 years and 11 deployments across the globe Josh left the SEAL community in 2018 to co-found Uffizzi. Day-to-day he organizes Uffizzi's Open Source and serves as its Head of Developer Relations. When he's not talking about the intersection of process and technology improvements Josh competes as a National level Age Group Triathlete and enjoys spending time with his wife and four kids.
Today I lead the Engineering at a fast-paced Startup and try to keep hands-on as much as possible (coming from an SRE/Security background), so I can keep up with technology, not just because that makes me more fit for the job, but because it is a passion!
Chris Van Tuin, Chief Technologist, NA West at Red Hat, has over 20 years of experience in IT and Software. Since joining Red Hat in 2005, Chris has been architecting solutions for strategic customers and partners and is a frequent speaker on DevOps, Security, and Containers. He started his career at Intel in IT and Managed Hosting followed by leadership roles in services and sales engineering at Loudcloud and Linux startups. Chris holds a Bachelors of Electrical Engineering from Georgia Institute of Technology.
Corporate lawyer turned serial entrepreneur founding four companies in different industries with one exit over the last nine years. For the last four years acting as the CEO of CleanCloud.
Jim is a recovering developer turned product marketer and has spent his career in category creation for emerging tech and open source. He loves useful, cool, cutting-edge technology and has a unique ability to translate often complex concepts into a compelling, effective core narrative that broader markets can consume. He is an advocate of the developer and an active participant in several open source communities.
Yingjun Wu is the founder and CEO of Singularity Data, a startup innovating next-generation cloud-native database systems. Before starting his adventure, Yingjun was a software engineer at the Redshift team, Amazon Web Services, and a researcher at the Database group, IBM Almaden Research Center. Yingjun received his PhD degree from National University of Singapore, and was also a visiting PhD at Carnegie Mellon University. Yingjun is serving as a Program Committee member in several top-tier database conferences, such as SIGMOD, VLDB, and ICDE.
Misha has nearly a decade of broad experience in Security including detection and response, growing security engineering teams at hyperscale, managing and responding to incidents from persistent social engineering attacks and nation state actors, and helping with compliance and regulatory frameworks. She is passionate about infrastructure, privacy, and the security of the internet.
Dr. Michael Yuan is the author of 5 books on software engineering, including Building Blockchain Apps by Addison-Wesley. He is the CEO of Second State, a company that focuses on bringing WebAssembly and Rust technologies to cloud, blockchain, and AI applications. Dr. Yuan was a long time open source contributor and a Principal Investigator at the National Institutes of Health.