Presented by: IBM
How to Build Cloud-Native Solutions Quickly and Efficiently Using Open-Source Java APIs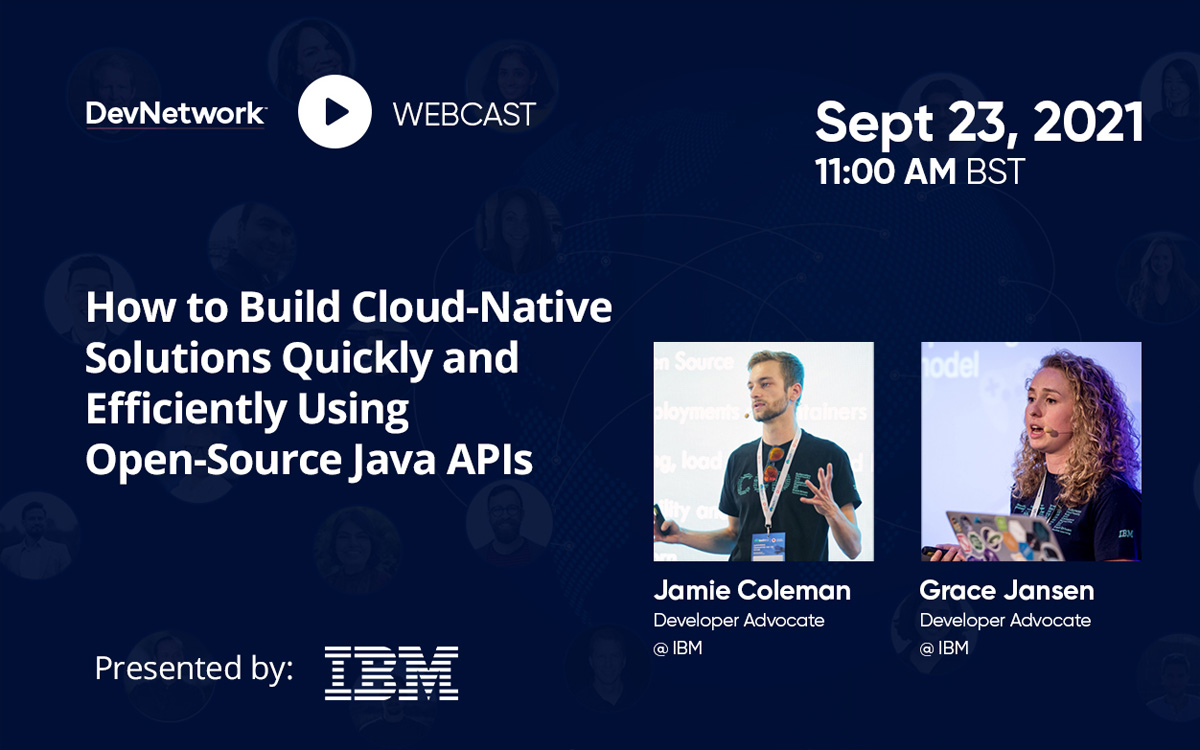 THU, SEP 23, 2021 · 11:00 AM BST
Presented by: IBM
Join us for the DevNetwork Dev Professional Webinar Series
Episode #27: How to Build Cloud-Native Solutions Quickly and Efficiently Using Open-Source Java APIs
Featuring:
Jamie Coleman — Developer Advocate, IBM
Grace Jansen — Developer Advocate, IBM
Come experience first-hand how you can build cloud-native solutions quickly and efficiently with open, enterprise-grade, cloud-native Java programming APIs optimized for microservices and the cloud.
In this session we'll introduce you to these APIs and how you can best use them, as well as enabling you to get hands-on with these technologies through our interactive labs. We'll be running two labs in this session focusing on MicroProfile and Jakarta EE APIs using our lightweight, open-source Java runtime Open Liberty.
If what we cover piques your interest, we have even more labs for you to try out following this session!
You can withdraw your marketing consent at any times here: ibm.biz/marketingoptout. Also you may unsubscribe from receiving marketing emails by clicking the unsubscribe link in each such email. More information on our processing can be found in the IBM Privacy Statement (https://www.ibm.com/uk-en/privacy) By submitting this form, I acknowledge that I have read and understand the IBM Privacy Statement. Also I understand that IBM may take group photos or perform live streaming during the event for promotional purposes.
Check out a preview of the webinar here: https://mediacenter.ibm.com/media/t/1_vt48js6b
Grace Jansen
Developer Advocate @ IBM
Grace is a Developer Advocate at IBM, working with Open Liberty, MicroProfile and Reactive Technologies. She has been with IBM since graduating from Exeter University with a Degree in Biology. Grace enjoys bringing a varied perspective to her projects and using her knowledge of biological systems to simplify complex software patterns and architectures. As a developer advocate, Grace builds POC's, demos and sample applications, and writes guides and tutorials. She is a regular presenter at international technology conferences and has recently authored a book on reactive systems. Grace also has a keen passion for encouraging more women into STEM and especially Technology careers.
Jamie Coleman
Developer Advocate @ IBM
Jamie is a software developer and Advocate for Open Liberty, MicroProfile and Jakarta EE based at IBM's R&D Laboratory in Hursley, UK. He is a subject matter expert in containerised solutions and takes a keen interest in emerging technologies with experience in Maven, git, Jenkins and microservice architecture. He fell in love with Java at University and has gone on to talk at many conferences about using Java with microservices. He has worked on a wide variety of projects such as modernising CICS mainframe testing infrastructure, creating and automating the creation of Docker images for IBM's products, contributing to a DevOps pipeline offering and creating web applications for events at the Lab. His recent passion is around raising awareness about energy consumption of technology and discovering ways to help reduce technologies carbon footprint.
Sign up for our newsletter