Enterprise
Advisory Board
DevNetwork Advisory Boards are composed of industry leaders, visionaries, and technical executives in the software engineering industry. As the destination for the global developer, engineering & IT community, DevNetwork has both the goal and obligation to present the most cutting-edge, innovative, and relevant content at our industry conferences and events. Our Advisory Board members help make that possible.
The Enterprise Advisory Board is a group of experts and industry executives who specialize in topics including: Newest trends & tools for enterprise & IT development & engineering, enterprise engineering & IT management, cloud / hybrid strategies, and API / integration management.The Enterprise Advisory Board is a group of experts and industry executives who specialize in topics including: Newest trends & tools for enterprise & IT development & engineering, enterprise engineering & IT management, cloud / hybrid strategies, and API / integration management.
All DevNetwork Advisory Boards
Enterprise

Advisory Board Members
Anshu is the CEO and Co-founder of Nimbella, a serverless cloud platform provider. She has over 20 years of experience in the technology industry, building and evangelizing cloud infrastructure products. She served on the BoD of the OpenDaylight Project, Linux Foundation. Prior to Nimbella, she led product teams at four infrastructure startups: Cedexis (acquired by Citrix, 2018), ConteXtream (acquired by Hewlett Packard Enterprise, 2015), Ankeena Networks (acquired by Juniper Networks, 2010), and Speedera Networks (acquired by Akamai, 2005). Anshu holds a B.S. E.E. from IIT/Roorkee, India; M.S. E.E. from Rutgers; and an MBA from the Kellogg Graduate School of Management.
Founder & CEO of medialesson GmbH. I help my customers design, architect, build and operate modern, beautiful and useable Apps that run on any platform as a consultant, architect and trainer. I teach Interface Design at the Pforzheim University and engage with the community as a speaker at conferences and user groups and organizer of code camps and hackathons. I was selected as one of the one hundred creative talents by the European Union. I was awarded a Microsoft Most Valuable Professional (MVP) every year since 2013. In 2017 I was accepted into the Microsoft Regional Director Program.
Currently as a Developer Advocate and Product Manager, James leads all strategic and product integrations for Checkmarx – a leader in Application Security Testing Solutions. He comes with fifteen years of software engineering experience in network protocol and kernel development. In his spare time, he volunteers mentoring Computer Science high school students in the Bay Area. He is an active "maker", and his main hobby is following IoT technology and trends.
A 25-year IT veteran, with a career spanning virtualisation engineering, consulting, and IT executive management, Neil is the co-founder and CEO of Portainer.io, a container management platform for Docker and Kubernetes.
Neil has a talent for being able to span the divide between engineering and management and can provide engineering a voice at the top table.
Neil is a natural engineer and is constantly looking at ways to make technology easier to use with the aim to reduce the cognitive load of engineering teams.
Neil is based in New Zealand, but travels to the US frequently.
Ganesh is the cofounder and CTO at Cortex. Prior to Cortex, he was a Principal Software Engineer at Mission Lane, where he helped drive the microservices migration. His experience with the microservice journey led to Cortex, which helps organizations understand and improve their microservices through ownership, scorecards, and more.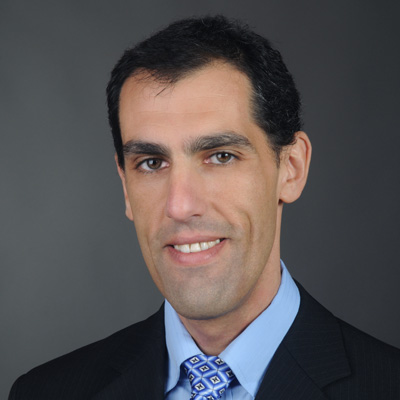 CEO of Telco Systems, a WW leader in Edge Computing and business connectivity technology. Ariel is also serving as the COO of BATM (LSE:BVC). In previous roles, headed Amdocs Product Group Venture Investments and Products M&A unit, headed Amdocs corporate competitive strategy unit and was the General Manager of the Service Fulfillment Product Business Unit.A software engineer education and an EMBA graduate of the Kellogg Recanati School of Management (Northwestern University & Tel-Aviv University)
Eugene Fratkin is currently the VP of Engineering at FOSSA, a company focused on providing effective ways for enterprises to leverage the broad world of Open Source. Prior to coming to FOSSA, Eugene was the Head of Engineering at Scale AI, the industry leader in processing data for machine learning applications. Prior to Scale Eugene held various positions in the tech industry, including leading R&D for the cloud services division in Cloudera, and was a founder of Sequoia capital funded start-up in cancer diagnostics – Lifecode. Eugene has a PhD in Machine Learning from the CS department of Stanford University, and MS in Cryptography and Network Security.
Rajoshi is the co-founder & COO of Hasura, a company that provides an instant unified GraphQL API to accelerate data access and development of modern apps and APIs. Prior to starting Hasura, Rajoshi ran a technology consulting firm that focussed on helping companies move from monoliths to microservice architectures. In her prior life she was a bioinformatics researcher who has been published in Nature.
Maheedhar Gunturu is a seasoned technology executive with over 15+ years of experience in software development with extensive experience in Linux, Big Data, Artificial Intelligence, Internet-of-Things, Cyber Security, 5G and various software ecosystems. Mr. Gunturu also played an active role in open-source working on cutting-edge distributed systems projects like Hadoop, Hbase, Spark, Kafka, Cassandra, OpenCV and PyTorch. Since 2018, Mr. Gunturu has been the Global Head and Director of Partnership & Solutions Engineering of ScyllaDB, an open-source distributed NoSQL system based on the seastar platform.
Technical founder at Cutover, Techstars Alumni. Pragmatic problem solver and early adopter of Mobile and Cloud. Always keen to help deliver a good solution today rather than a perfect solution tomorrow and then iterate from there
Sila Cofounder; experienced startup operator in regulated industries.
Based in Minnesota, Phil serves as the Americas Field CTO for GitHub and is passionate about helping organizations improve their software velocity.
When he's not working to help development teams adopt modern and secure tools and practices he can usually be found in the kitchen, playing board games with his kids, or spending time skiing and biking small midwestern hills
Grey Matter co-founder and CTO Jonathan Holmes provides customers strategic and tactical connectivity, bridging legacy and cloud-native applications to create transformative enterprise IT value. He leads Grey Matter's development roadmap with deep focus on the interoperability and business intelligence needs.
Jonathan commands a unique full-spectrum perspective regarding today's architectures and hybrid/multi-cloud environments. His expert command of the agile development process and team-first approach has been counted on in support of a number of business-critical application development efforts, and his ability to engage and grasp client functional requirements ensure the delivery of immense customer value.
CEO and Co-founder of Codacy.
Jan Karremans is the Director of Product Marketing at EDB, providing in-depth insights and on PostgreSQL. With over 25 years of experience in the database market and a former qualified Oracle ACE, Jan is a well-respected expert in relational database technologies, speaking regularly at conferences around the globe.
He began his career working for the Royal Dutch Army. While there Jan supported the switch to Oracle Database 7.1 on a Micro VAX 3100.
On a parallel track in his career, Jan moved into sales and consultancy as Business Development Manager for New Zealand based and operated Dbvisit.
Head of Strategy and Marketing at OpenChannel, helping companies understand the importance and value of creating their own developer and app ecosystem. Strategic Advisor to the Cloud Software Association, Mentor at The Knowledge Society
VP Of Engineering at Etsy Rachana Kumar is an award winning, global minded industry leader with a passion for using innovative technology to help others. In her current role as VP of Engineering at Etsy, she leads several product engineering teams, directing engineering initiatives that impact over 2.3 million creative entrepreneurs and 45 million active buyers.
Marc Linster is the CTO of EDB, the leading Postgres company. Marc spends most of his time working with strategic customers and partners around the world to help them navigate their journey to modernization and innovation with Postgres.
Skyla Looms is the VP for the IBM Z Application Platform software portfolio which includes the most secure, highest performing. and lowest total cost of ownership transaction processing and database systems such as IMS, CICS, and z/TPF. She's responsible for strategy, product/offering management, software engineering, support, and services for the Z Application Platform as well our z/OS synergy with Red Hat OpenShift and Red Hat Ansible Automation Platform. She's been with IBM 19 years and held development leadership roles across public cloud, mobile, business analytics, data warehousing, and NoSQL. Passionate about culture, she's led agile transformation journeys across multiple teams.
Carlos Martin is the CEO of macami.ai, a company focused in bringing business efficiency by using Robotic Process Automation (RPA) and AI. Formerly Director of Strategic Alliances for Brazil at Blue Prism, the pioneer of the RPA market.
Carlos has a degree in Computer Science from ITESO and a Master's in Technology Commercialization from UT Austin. He has 20+ years in IT with a solid experience in technology, systems, problem solving, research and business strategy.
Carlos is the author of the upcoming book "The Efficient Enterprise", a business book that brings these technologies closer to the business user.
Johnny is an experienced developer, DevOps, architect and team leader. He has worked with a wide variety of customers – from small startups to large enterprises. He has a deep understanding of the challenges facing modern companies looking to move to a secure, agile, always-on and highly available platform.
Business and Technology leader investing in and building bleeding edge solutions for global enterprises across Cloud Transformation/Migration, Data Engineering (Database, Data Warehouse, Data Lake (BI & AI/ML), Cloud Security & GRC, DevSecOps & Site Reliability Engineering, Cloud Application Delivery/Modernization/Containers/Serverless, SDDC & SDx.
I am passionate about technology and helping others realize the ways in which it can improve business and people's lives. I continually look for opportunities to leverage a creative and analytical skill set to improve business agility so that organizations can respond quickly to customer needs and stay relevant in an increasingly digital world.
Mr. Olex is a software engineer and entrepreneur with over 28 years of experience. He created SlashDB, an automated RESTful web service layer for relational databases and runs vt.enterprise a software consultancy servicing financial institutions in the New York metro area. He is a Polish-American immigrant who believes (and proven) that motivation and resourcefulness can compete with and prevail over privilege and money.
3X founder, an engineer at heart with Business and Management leadership as layers on the top. Have built and got acquired 2 product startups (($10m ARR+) and 1 consulting startup (150+ cloud consultants), led 100M ARR product team with responsibilities across 200+ member P&L, Engineering, Operations, Field Sales & GTM team.
Chris Pardo brings over 20 years of experience in product, alliances, technology and innovation. Chris is currently Principal PM focused on profitability for Office, Sharepoint and Teams. Prior to Microsoft, Chris was the VP of Innovation for Sales & Marketing Solutions at Dun & Bradstreet where he helped bring new integrated products to market and created strategic alliances with major cloud companies. Prior to D&B, Chris worked at IBM as a software engineer on IBM's hardware and software products.
https://www.linkedin.com/in/ashishipatel/
After learning to code as a teenager, Federico founded his first startup at the age of 16. Following that initial foray into tech leadership Federico worked for Microsoft as a very young adult. After a number of years working for US organizations Federico saw a need for effective software development help and an opportunity to make an impact in his community in Guadalajara (Mexico). As a result, Federico founded Density Labs along with his wife, Adela. Over the last several years he has focused on managing projects for his US partners and scaling development (and QA) teams for their businesses.
Angel is an entrepreneur and hands-on tech CEO who drives the vision and innovation behind Cuemby. Angel has a passion for sharing the knowledge which he does through public speaking as a member of the Cloud Native Computing Foundation speakers bureau and Fundacion Hispana de Cloud Native helping the Hispanic community to have access to content in their native language. As one of the early adopters of Kubernetes, he is a certified Kubernetes administrator and part of the team that curates the exam. Angel is also involved in the Linux Foundation, helping curate multiples exams.
Over the last 10 years, Ameya Talwalkar has built strong engineering teams specializing in enterprise and consumer security in Silicon Valley, Los Angeles, Madrid, Pune, and Chengdu. Before co-founding Cequence Security, he was Director of Engineering at Symantec, where he was responsible an anti-malware software stack that combined network intrusion prevention with behavioral technologies, and anti-virus engines. Under his leadership, Symantec developed an advanced version of network intrusion prevention technology that blocks more than two billion threats a year. Ameya holds a Bachelor of Engineering in Electrical Engineering from the University of Mumbai's Sardar Patel College of Engineering (SPCE).
David Weinstein is CTO at NowSecure, a leading provider of automated security and privacy testing software for mobile applications. He has over 15 years of experience as a technologist and innovator, with multiple patents granted and pending. David's specialities include cybersecurity, enterprise software, startups, mobile, and cloud platforms. He holds a dual major bachelor's degree in Computer Systems Engineering and Computer Science from Rensselaer Polytechnic Institute.
Steve Wilkes is a life-long technologist, architect, and hands-on development executive. Prior to founding Striim, Steve lead the Advanced Technology Group at GoldenGate Software. This focus on data integration continued following the acquisition by Oracle. His earlier career consisted of a number of product development and consulting roles. Steve has handled every role in the software lifecycle and most roles in a technology company. He still codes in multiple languages, often at the same time. Steve holds a Master of Engineering Degree in microelectronics and software engineering from the University of Newcastle-upon-Tyne in the UK.