Enterprise
Advisory Board
DevNetwork Advisory Boards are composed of industry leaders, visionaries, and technical executives in the software engineering industry. As the destination for the global developer, engineering & IT community, DevNetwork has both the goal and obligation to present the most cutting-edge, innovative, and relevant content at our industry conferences and events. Our Advisory Board members help make that possible.
The Enterprise Advisory Board is a group of experts and industry executives who specialize in topics including: Newest trends & tools for enterprise & IT development & engineering, enterprise engineering & IT management, cloud / hybrid strategies, and API / integration management.The Enterprise Advisory Board is a group of experts and industry executives who specialize in topics including: Newest trends & tools for enterprise & IT development & engineering, enterprise engineering & IT management, cloud / hybrid strategies, and API / integration management.
All DevNetwork Advisory Boards
Enterprise

Advisory Board Members
Haseeb Budhani is the CEO and co-founder of Rafay Systems, which he co-founded in October of 2017. Prior to Rafay, Haseeb spent at a year at Akamai Technologies as Vice President of Enterprise Strategy. Akamai acquired Haseeb's previous company, Soha Systems, in October 2016. He co-founded Soha in 2013 and served as the company's CEO.
Previously, Haseeb held senior product management, marketing and engineering roles at Personal IT, Citrix Systems, Orbital Data, IP Infusion and Oblix. Haseeb holds an MBA from UC Berkeley's Haas School of Business and a B.S. in Computer Science from the University of Southern California.
A 25-year IT veteran, with a career spanning virtualisation engineering, consulting, and IT executive management, Neil is the co-founder and CEO of Portainer.io, a container management platform for Docker and Kubernetes.
Neil has a talent for being able to span the divide between engineering and management and can provide engineering a voice at the top table.
Neil is a natural engineer and is constantly looking at ways to make technology easier to use with the aim to reduce the cognitive load of engineering teams.
Neil is based in New Zealand, but travels to the US frequently.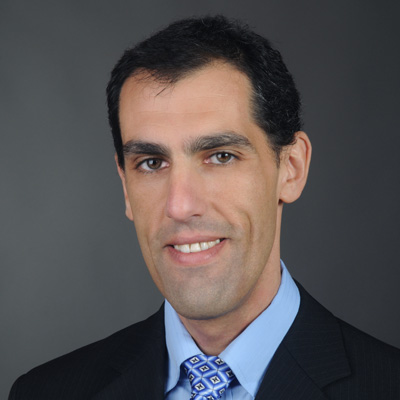 CEO of Telco Systems, a WW leader in Edge Computing and business connectivity technology. Ariel is also serving as the COO of BATM (LSE:BVC). In previous roles, headed Amdocs Product Group Venture Investments and Products M&A unit, headed Amdocs corporate competitive strategy unit and was the General Manager of the Service Fulfillment Product Business Unit.A software engineer education and an EMBA graduate of the Kellogg Recanati School of Management (Northwestern University & Tel-Aviv University)
Anthony is the Senior Director of Engineering for Multiplayer Game Servers at EA. In this role he oversees the product direction, development and operations of their game server management and orchestration systems.
Derk-Jan de Grood works as agile transition coach for Squerist. He wrote several successful books and frequently publishes articles and columns for the major magazines. In 2014 he won the EuroSTAR testing excellence award. In 2021 he published "the waves of Agile" a book on agile transformations and delivering value in complex organizations. Derk-Jan is an experienced trainer, workshop host and a regular (keynote) speaker at conferences like Agile Business Day Venice, XP Days Copenhagen, Selenium Days New Zealand, The Development Conference Brazil, and the Agile Testing Days and STAR conferences in Europe and America.
Technical founder at Cutover, Techstars Alumni. Pragmatic problem solver and early adopter of Mobile and Cloud. Always keen to help deliver a good solution today rather than a perfect solution tomorrow and then iterate from there
I've served for over 18 years as CISO in global financial services firms of all shapes and sizes, and both CISO and CTO experience in the banking, insurance, and mortgage industries. 2 decades of experience driving innovation that balances strategic objectives with demonstrating regulatory compliance.
Skilled in communicating complex technical concepts and issues to support executive and board-level discussions.
I bring strong program delivery skills at scale globally in both Waterfall and Agile delivery models, and focus on cost-effective approach to operational and technology risk management.
CEO and Co-founder of Codacy.
Venkatesh Konanur leads partner engineering at Verizon's Innovation Labs with a focus on applied research and developer advocacy. With expertise in cloud architecture and engineering, Venkatesh works with both internal and external partners to test emerging solutions on the mobile edge compute (MEC). Additionally, Venkatesh contributes to research and patentable work in 5G, while also serving as an advisor for the company's Fortune 100 customers on their transition to the next generation of networks.
Roland Lee's background is in application networking. He has been a developer and product manager in startups and large companies. All through his career, his industry focus has been to increase the performance of Internet user data. He is currently Head of Products for Heimdall Data, an off-the-shelf data access layer for applications accessing SQL databases.
Marc Linster is the CTO of EDB, the leading Postgres company. Marc spends most of his time working with strategic customers and partners around the world to help them navigate their journey to modernization and innovation with Postgres.
Skyla Looms is the VP for the IBM Z Application Platform software portfolio which includes the most secure, highest performing. and lowest total cost of ownership transaction processing and database systems such as IMS, CICS, and z/TPF. She's responsible for strategy, product/offering management, software engineering, support, and services for the Z Application Platform as well our z/OS synergy with Red Hat OpenShift and Red Hat Ansible Automation Platform. She's been with IBM 19 years and held development leadership roles across public cloud, mobile, business analytics, data warehousing, and NoSQL. Passionate about culture, she's led agile transformation journeys across multiple teams.
Carlos Martin is the CEO of macami.ai, a company focused in bringing business efficiency by using Robotic Process Automation (RPA) and AI. Formerly Director of Strategic Alliances for Brazil at Blue Prism, the pioneer of the RPA market.
Carlos has a degree in Computer Science from ITESO and a Master's in Technology Commercialization from UT Austin. He has 20+ years in IT with a solid experience in technology, systems, problem solving, research and business strategy.
Carlos is the author of the upcoming book "The Efficient Enterprise", a business book that brings these technologies closer to the business user.
Arindam Mukherjee is a seasoned Supply Chain Operations Architect with a robust digital transformation background. He specializes in ERP system implementation and has overseen many successful digital transformation initiatives in diverse industries. Arindam's 18+ years of experience have been pivotal in aiding businesses to optimize their operations and attain their objectives.
Mr. Olex is a software engineer and entrepreneur with over 28 years of experience. He created SlashDB, an automated RESTful web service layer for relational databases and runs vt.enterprise a software consultancy servicing financial institutions in the New York metro area. He is a Polish-American immigrant who believes (and proven) that motivation and resourcefulness can compete with and prevail over privilege and money.
Chris Pardo brings over 20 years of experience in product, alliances, technology and innovation. Chris is currently Principal PM focused on profitability for Office, Sharepoint and Teams. Prior to Microsoft, Chris was the VP of Innovation for Sales & Marketing Solutions at Dun & Bradstreet where he helped bring new integrated products to market and created strategic alliances with major cloud companies. Prior to D&B, Chris worked at IBM as a software engineer on IBM's hardware and software products.
Amir Rapson co-founded vFunction and serves as its CTO, where he leads its technology, product and engineering. Prior to founding vFunction in 2017, Amir was a GM and the VP R&D of WatchDox until its acquisition by Blackberry, where Amir served as a VP of R&D. Prior to WatchDox, Amir held R&D positions at CTERA Networks and at SofaWare (Acquired by Check Point). Amir has an MBA from the IDC Herzlia, and a BSc in Physics from Tel-Aviv University.
After learning to code as a teenager, Federico founded his first startup at the age of 16. Following that initial foray into tech leadership Federico worked for Microsoft as a very young adult. After a number of years working for US organizations Federico saw a need for effective software development help and an opportunity to make an impact in his community in Guadalajara (Mexico). As a result, Federico founded Density Labs along with his wife, Adela. Over the last several years he has focused on managing projects for his US partners and scaling development (and QA) teams for their businesses.
Adam Sandman was a programmer from the age of 10 and has been working in the IT industry for the past 20 years in areas such as architecture, agile development, testing and project management. Adam is the Founder and CEO of Inflectra Corporation, where he is interested in technology, business and enabling people to follow their passions.
Adam has previously spoken at STAR West, STAR East, Agile+DevOps West, Agile+DevOps East, STPCon, Swiss Testing Day, InflectraCon, TestingMind, EuroSTAR, Agile Testing Days, TestCon Europe, UNICOM, GSDC and STAR Canada.
A past CISO at several companies, Sarb has consulted covering most areas in risk and security. His current industry contributions include Executive Steering Board of the IoT Security Foundation, ISACA International 'Emerging Technologies' Working Group. Past contributions include: the London Chamber of Commerce and Industry Defence and Security Committee; Past President of the ISACA London Chapter, Chair of ISACA International GRA Committee, ISSA UK Advisory Group member, InfoSecurity Magazine Editorial Group member, SC Magazine Editorial Board Member. Sarb has served on security standards groups and writes / comments for several publications and speaks at risk and security events.
Hands-on technology leader with 20+ years of experience leading technology teams and delivering innovative solutions in diverse industries. Generated multi-million dollars in revenue by building patented, award winning Software Applications, Platforms and IoT products leveraging emerging technologies.
Roxy, Head of Innovation & VP of Engineering in the Office of the CTO, leads a charter to accelerate the pace and impact of innovation at F5 – a security and application delivery company. She advocates leveraging technology, lean-agile processes, and machine and human connections to deliver tangible positive impacts. Before F5, Roxy was the CTO of IoT World Labs leading global teams to create, build, and launch an innovative digital data transformation SaaS platform. She holds a B.Sc. in Computer Science from the University of Washington with 25+ years of experience in enterprise technology and business transformation.
Piyush Verma is co-founder and CTO at Last9.io, an SRE platform that aims to minimise the toil that SREs and decision-makers need to go through to reduce the time to make a decision. Earlier, he led SRE @ TrustingSocial.com to produce 600 million daily credit scores across 4 countries. In his past life, he built oogway.in (exit to TrustingSocial.com), datascale.io (exit to Datastax), and siminars.com.